Less than an hour's drive north of Atlanta is
Lake Lanier
, a popular weekend getaway for those looking to escape the summer heat in Georgia. The lake's more than 690 miles of shoreline make it Georgia's largest artificial lake.
It was built in the 1950s for power, water supply
, and flood protection. Today, the lake is used as a recreation area. Lake Lanier sees large swaths of visitors to its more than 76 recreational areas and 40 Army Corps of Engineers-operated parks each year.
Due to the lake's large footprint, Lake Lanier waterfront homes for sale span across multiple towns and small cities. If you prefer city living, Atlanta is less than an hour away from the southernmost part of the lake, making it a great spot to live for commuters. You can use your Lake Lanier real estate as a permanent home or a quick summer escape.


If your search for Lake Lanier homes for sale has you wondering how to care for a private dock, you've come to the right place. Dock maintenance is essential to the life of your dock—and your safety while using it—so it's important to make maintenance a priority. The following four steps for maintaining your dock are not all-encompassing; there are dozens of possible dock issues, but if you master these important fundamentals, you will be ready to move into a Lake Lanier waterfront home in no time.
Determine dock material
The first and most crucial step in caring for your dock should be to determine how it was made. You'll care for your dock in slightly different ways based on the type of dock you own. There are three major types of decking used today: pressure-treated wood, hardwood — such as Premium Ipe Lumber — and composite decking.

Pressure-treated wood
This type of decking, though beautiful, is tough to care for because it can take on moisture easily. The team at
Decks & Docks
prefers southern yellow pine, a sustainable and durable type of lumber. You'll also need to seal the wood frequently to keep out moisture.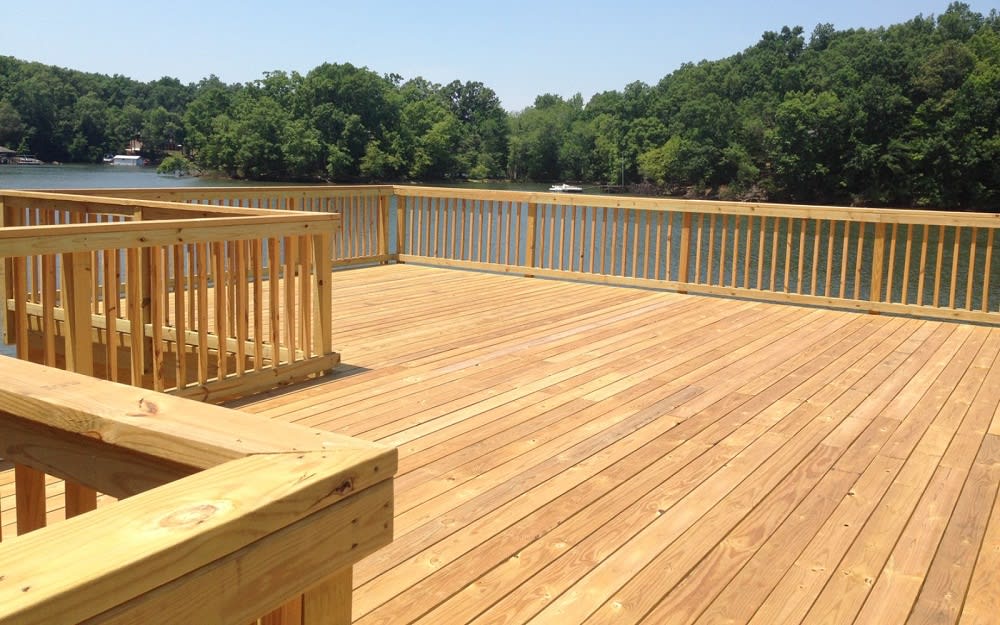 Photo Courtesy of WaterJack Marine Construction

Hardwood / Ipe premium lumber
If you've selected Ipe Premium Lumber for your Lake Lanier real estate — good choice. It's the most durable of the three options, as it's very resistant to damage caused by water and creatures. But you'll still need to clean and oil the surface regularly.

Composite decking
If your dock is made from composite decking, a combination of wood, natural fibers, and plastics, you're in luck. This might be the easiest material to care for but will still need regular attention. Composite decking is also resistant to water seepage and creatures, especially if you've chosen a brand that covers the dock in resin capping.
Clean the dock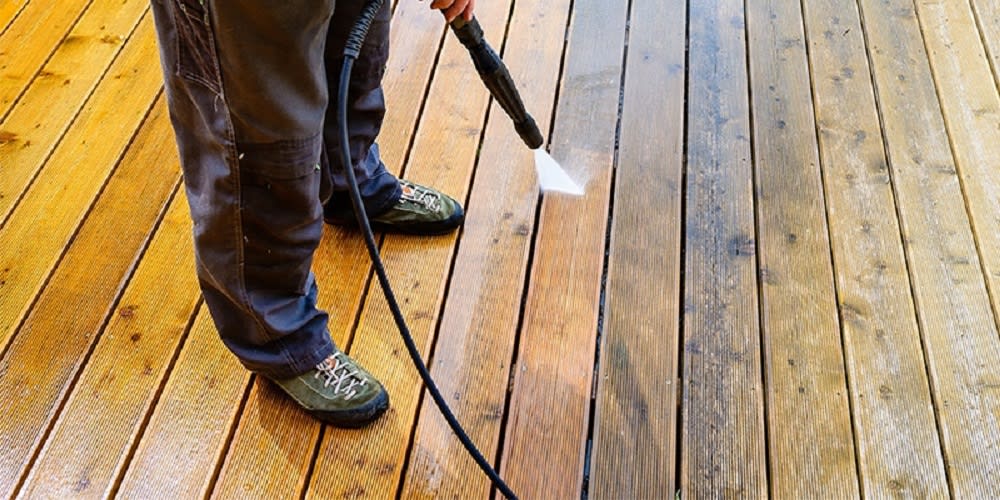 Photo Courtesy of Pressure Washing Charlotte
At least once per year, make sure your dock is cleaned correctly. The
Shoremaster crew
suggests using something phosphate-free and biodegradable in order to prevent algae buildup. You can even use materials you already have in your home, such as baking soda or water-based dishwashing liquid. Though it is common in dock maintenance, avoid pressure washing as this can cause water to seep more deeply into the dock. If pressure washing is unavoidable, make sure to follow up by sanding down any piece of wood that may have come loose.
Sand and stain the dock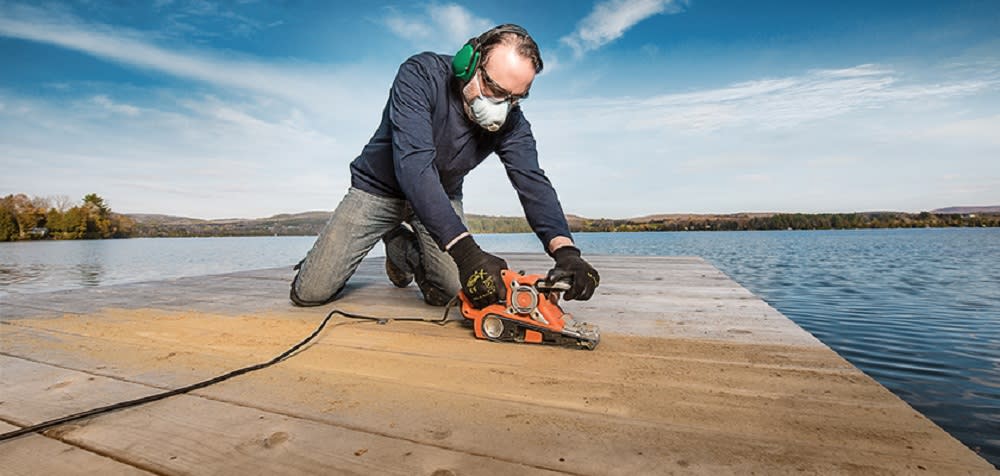 Photo Courtesy of Norton Abrasives
Once the dock on your Lake Lanier real estate is clean and rid of any mold or dirt that may have been hanging on, it's time to sand and stain the dock. It's suggested that you sand and stain the dock annually to keep it clean, free of water damage, and free of creatures. Always sand and stain after your yearly cleaning.
Annual dock inspection
Some things are best left to the professionals. If you want to make sure your dock remains in top condition, reach out to a local marine contractor for a yearly inspection. Marine contractors are licensed in marine construction of all kinds, so they can easily spot any issues with your dock and provide information on how to mitigate risks.


Several issues can arise with docks. Anything submerged in water and subjected to the elements will show some signs of wear and tear. Common problems such as rot, rusting, warping and bending of the wood, and discoloration can all be cared for easily if caught early. Regular maintenance, cleaning, and staining help prevent these most common problems. If you're unsure whether to salvage or replace a dock that has seen better days, reach out to a trusted marine contractor for help with a diagnosis.


Following these four steps for dock maintenance is a surefire way to keep your dock in pristine condition. Dock maintenance is essential. However, it doesn't have to be daunting! Once you've determined your dock material, a yearly cleaning, staining, and inspection should do the trick. Dock maintenance will increase your Lake Lanier real estate enjoyment and improve your home's return on investment over the long term.
Moving forward, there are a few different ways to hire a capable marine contractor. You can ask your neighbors or friends with ports if they have any recommendations for a trustworthy and knowledgeable marine contractor. For help with a wider range of dock issues, you also can contact a specialist on the
All Points Team
for referrals on specialty dock companies: everything from electricians, boat lifts, jetski ports, and spud pole and float installations.
Searching Lake Lanier homes for sale?
If you're interested in Lake Lanier homes for sale, contact the
All Points Team with Compass Realty
. Their local team has experience helping buyers and sellers navigate the Lake Lanier real estate market and will help you achieve your real estate goals. If you're hoping to score in your search for homes for sale in Lake Lanier, reach out to the
All Points Team
today.