Whether you're trying to redecorate your new home or stage your property for prospective buyers, the design of your kitchen is an important part of creating the perfect interior. You'll add value to your Cumming real estate by using trendy concepts to inspire your decor and designs. If you want to be in on today's hottest decor styles and boost the value of your
Cumming, GA
home, here are some trendy tips for decorating your kitchen space.
Kitchen interior inspiration for Cumming, GA real estate
Shapes and materials
Bold textures and shapes are key in today's most popular Southern kitchen designs. For example, today's kitchen materials have become much more stylized and unique. Instead of using just granite and maple wood, kitchens are branching out into metal, quartz, glazed tile, white oak, and other natural elements. Natural fibers and materials have also grown more popular. For example,
wicker decor and furniture
often dominate today's green, earthy designs. Similarly, patterned tile floors, arches, stone pillars, and other structural kitchen features have become prominent in trendy, modern Cumming real estate properties.
Lighting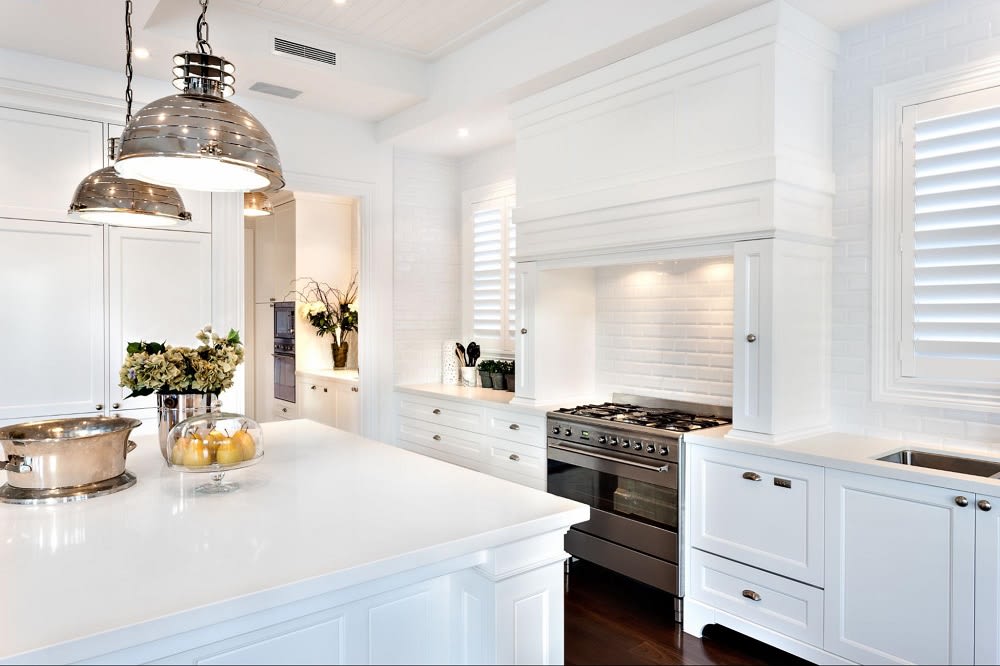 One of the most important parts of kitchen design isn't about what you see on the surface — it's about the lighting that helps you see those surfaces. Great lighting can brighten up any kitchen, but on the flip side, terrible lighting can ruin the effect of even the most well-designed kitchens in Cumming real estate.
There are a handful of trendy ways you can play with lighting in your kitchen. For a bright room without using ultra-intense LEDs, use layering light techniques. For example,
you can use shades and other coverings
to diffuse the brightness. Or use a soft orb chandelier for your dining space and brighter glass ceiling lamps over your kitchen island to keep everything light and bright without overdoing it.
Deploy some stylish accent or statement lighting fixtures to gain trendy style points. Statement lights form the focal point of a room, while accent lights are unique fixtures based on the rest of the design theme. Think a starburst-shaped chandelier versus a simple ceiling fan with leaf accents in a nature-themed room. These lighting elements can add some flair by themselves or when paired with other trends on this list.
Shelves
Kitchen shelving recently evolved to incorporate creative new methods of storing and displaying kitchenware. Open shelving, which shows off every one of your pristine dishes and kitchen accessories, is becoming increasingly popular. Some designers even run a single open shelf across the kitchen to simplify the shelving situation in a complicated kitchen design. You may have a lot of elements in one place, but a single open shelf can help bring the whole thing together. It can add a minimalist pop to any dynamic design.

For a different shelving option, handleless shelves have become more popular — users simply press and pop open cabinet drawers and doors instead of pulling on them. It's just another way to add a touch of sleek simplicity to your kitchen shelving.
A divided layout
Cumming homes for sale currently feature different kitchen layout styles than those seen over the past two decades. While open concept kitchen/living spaces were once all the rage, trendier homes are changing the game. Designers are now using window panes, screen doors, and barnhouse doors to create "semi-open" kitchen concepts instead. Kitchen islands are also undergoing a revolution — waterfall edges and double islands give today's kitchens a more stylized look.
Counters
Kitchen counters have gotten a facelift over the past few years. If you're designing a kitchen in Cumming real estate, you'll want to think fresh when it comes to your counters. Granite and marble are phasing out of popularity in favor of the
shiny and beautiful
(but sturdier) quartz. The only exception is a new craze for green marble — a style so unique it defies trends.
In order to hit that sweet spot between uniformity and style, it's become popular to blend the countertop and the backsplash. Instead of just cutting a slab for the counters, you could also cut your backsplash out of the same material, making the two spaces blend seamlessly together.
Function and storage
Clever storage is what every practical homeowner needs and modern Southern kitchens are leaning in. One of the most trendy things to do with Cumming real estate is to use your space in accessible and practical ways. For example, people are making space in their kitchens to add mini pantries and even small home offices. It's also trendy to hyper-organize said cabinets and pantries using color coding, labels, and clean, uniform containers. Even an empty corner isn't safe — today's hottest designers encourage homeowners to add breakfast nooks and bookshelves to unused open kitchen spaces.
Nostalgic accents
The most trendy thing about modern Southern kitchens is the personal touch. Minimalism used to be the go-to chic style for kitchens, but as people spend more and more time in their homes, they've grown to appreciate a more sentimental touch. Designers of Cumming homes for sale are employing detailed kitchen knobs, beautifully unique light fixtures, and even textured walls to dazzle homeowners.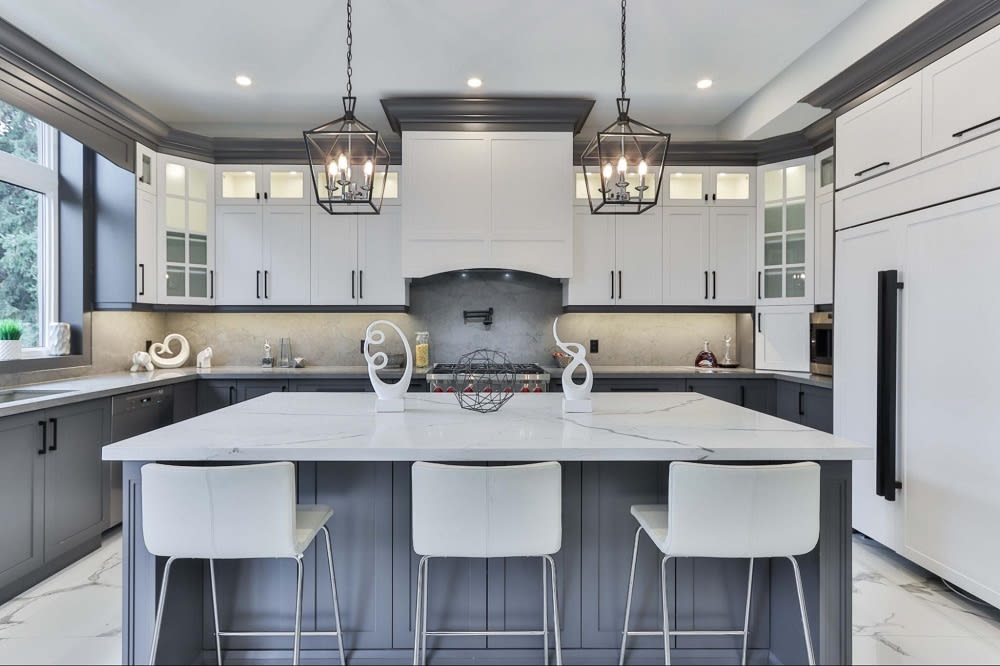 While kitchens once stuck to a very white and bright palette, current trends are moving more into color. People are painting their cabinets and covering their kitchen's basic white and gray with blue, black, and,
most popularly, green
.
Today's trendy kitchens incorporate a blend of clean, modern design with touches of vintage charm. Many designers are employing classic, antique-inspired pieces like built-in banquettes, sink curtains, and refurbished furniture in their kitchens to make everything feel a bit cozier. You'll feel like your kitchen has a touch of your grandmother's traditional design values without compromising the modern beauty of luxury kitchens.
Remodeling to sell your home?
We can help! If you're updating your kitchen to increase the value of your home, contact us to learn about options for interest-free capital for renovations, staging, or even moving expenses. Our experienced local agents at the
All Points Team
offer expert guidance for every step of the process.
Get in touch today
.